The minister search committee for 2019-2020 has begun its work. Updates about the committee's work will be posted here. You can contact the committee at search@uucss.org
The Congregational Record for the 2019-2020.
The members of the 2019-2020 minister search committee (pictured below) are Beverly Schnetzler, Charles Jeremy Holt, Anna Molpus, Steven Hirsch, Katie Haag, Sharon Snyder and Lisa Schumaker.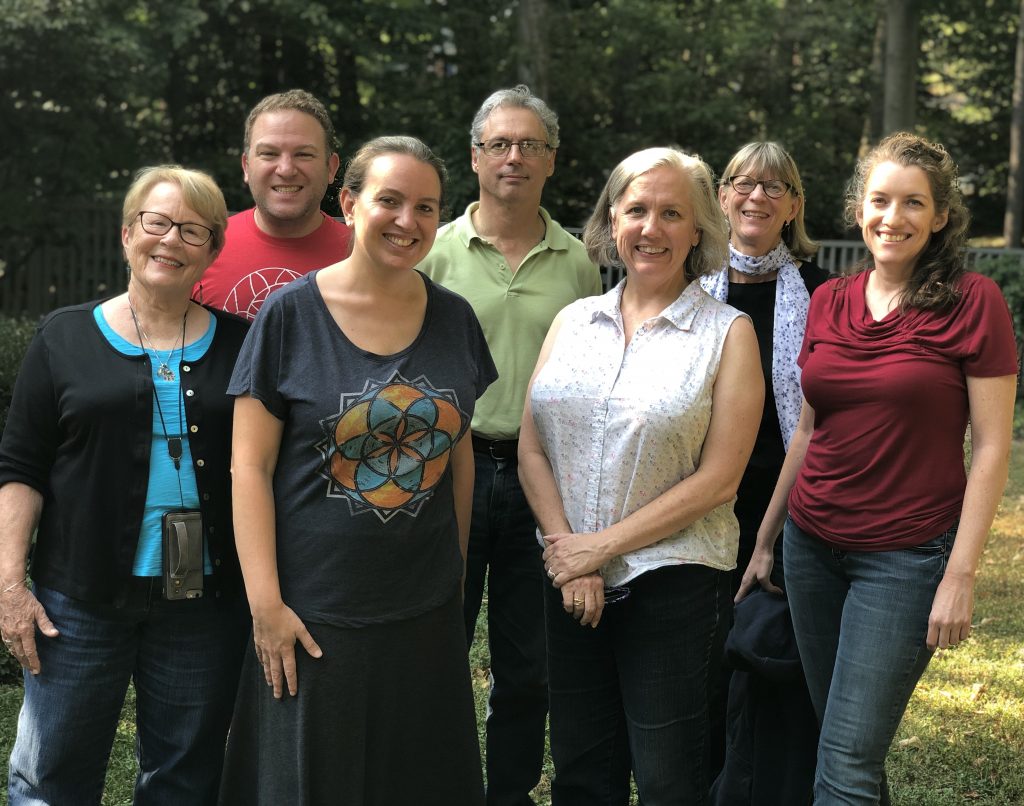 Search Committee Members
Katie Kirk Haag has lived in Silver Spring for 6 years. Originally from Minnesota, she spent a decade in Austin, TX and then more than a decade abroad including time in Paris, Qatar, Berlin and Malta. She is the mother of 3 older teens, works fulltime at Montgomery College and loves the spiritual diversity of UUCSS.
Steve Hirsch is mostly from Chapel Hill, NC. He has traveled a lot including for his job. He has been a member of UUCSS since the early 2000s when he and his wife joined, mostly so their 2 children would have some religious education.
Charles "Jeremy" Holt was born in Long Island, NY and moved to the DC area for college in 2001. He was raised in a Conservative Jewish synagogue. He and his wife Ashley met in college and decided to stay in the area. After the birth of the first of two daughters they moved out of the city and joined UUCSS. Jeremy has helped run the church's annual Passover Seder and along with his wife and another member ran one year's annual budget drive.
Anna Molpus grew up attending Protestant services with her father, and UU religious education classes with her mother. She began attending UUCSS in the 7th grade and met the man she would eventually marry in the YRUU youth group. She has been active in many UUCSS groups and activities and wants to raise her two sons with UU values.
Beverly Schnetzler grew up in Alabama as a Southern Baptist. She's lived in Germany and Japan, moved to Maryland in 1965. Because of social action programs she wanted to raise her 3 sons as UUs and joined UUCSS in 1969. She has been a member of the Board and held other leadership positions over a period of 50 years.
Lisa Schumaker was raised nominally Catholic in Boise, Idaho, and came to the DC area in 1985 to attend college. She joined a feminist chorus which led her to discover UUCSS after performing here for a service in 1999. She has taught RE from 2nd graders to YRUU and has been active in Social Justice campaigns and service projects. She was Treasurer for 10 years, and most recently served on the Board.
Sharon Snyder was raised a Catholic and attended Catholic schools through the sixth grade. She came to Unitarianism later in life and has been a UUCSS member for approximately 25 years. In that time, she has established close friendships, as well as finding a place to explore her spirituality. She has been an active member, having volunteered in the past to organize the women's retreat and the yearly UUCSS auction. Since retiring she has also joined the choir and been a member of the Board of Trustees, as the Vice President of Personnel. Sharon is excited to share the responsibility of the Search Committee with committed and collegial congregants.
Your 2019-2020 Search Committee brings you these updates on where we are and what's ahead:
January Update from the Ministerial Search Committee
Applications and Interviews
Interviews are upon us! We developed interview questions and conducted a mock interview with Rev. Lyn. We received ministers' applications and were pleased with the size and qualifications of the applicant pool. We've reviewed the ministers' applications and spoken with their references. Now we're wrapping up our first round of video conference (zoom) interviews and are in the process of finalizing our invitations to possible "precandidates." Precandidates will come to Silver Spring later this winter/spring to see the church, sit with us for in-person interviews, and lead a worship service at a neutral pulpit.
During this next phase of the process, we may not be able to keep you apprised of every development, but we appreciate your trust and patience. We are honored to be in the position to have these interactions with ministerial applicants and to represent you all in this critical role.
As always, please feel free to email us with any questions or concerns at search@uucss.org
November Update from the Ministerial Search Committee
Congregational Record
Right now, one of the primary focuses of the Search Committee is the Congregational Record. The Congregational Record is a compilation of facts and narratives covering our church history, membership and attendance, congregational demographics and beliefs, governance structure and programs, finances, paid staff, and the congregation's strengths and challenges. This document will reside with the UUA for review by ministerial candidates.
We have integrated feedback from last year's congregational survey and cottage meetings, this year's cottage meetings, and emails we received from the congregation into the record. We built upon and updated the record developed by last year's Search Committee. We've submitted the draft Congregational Record to our UUA Transition Coach for her review, and we will be submitting the final Congregational Record soon.
Documents Packet
In addition to the Congregational Record, we submit the "Documents Packet." While the Congregational Record consists of our responses to a list of questions, the "Documents Packet" is…wait for it…a packet of documents. The packet includes documents such as our church constitution, budget, congregational covenant, board meeting minutes, policies, organizational chart, photos of the church, and sample newsletters and orders of service. We are updating the packet now, and it will be finalized sometime in December.
As always, please feel free to email us with any questions or concerns at search@uucss.org