The minister search committee for 2019-2020 has begun its work. Updates about the committee's work will be posted here. You can contact the committee at search@uucss.org
The members of the 2019-2020 minister search committee (pictured below) are Beverly Schnetzler, Charles Jeremy Holt, Anna Molpus, Steven Hirsch, Katie Haag, Sharon Snyder and Lisa Schumaker.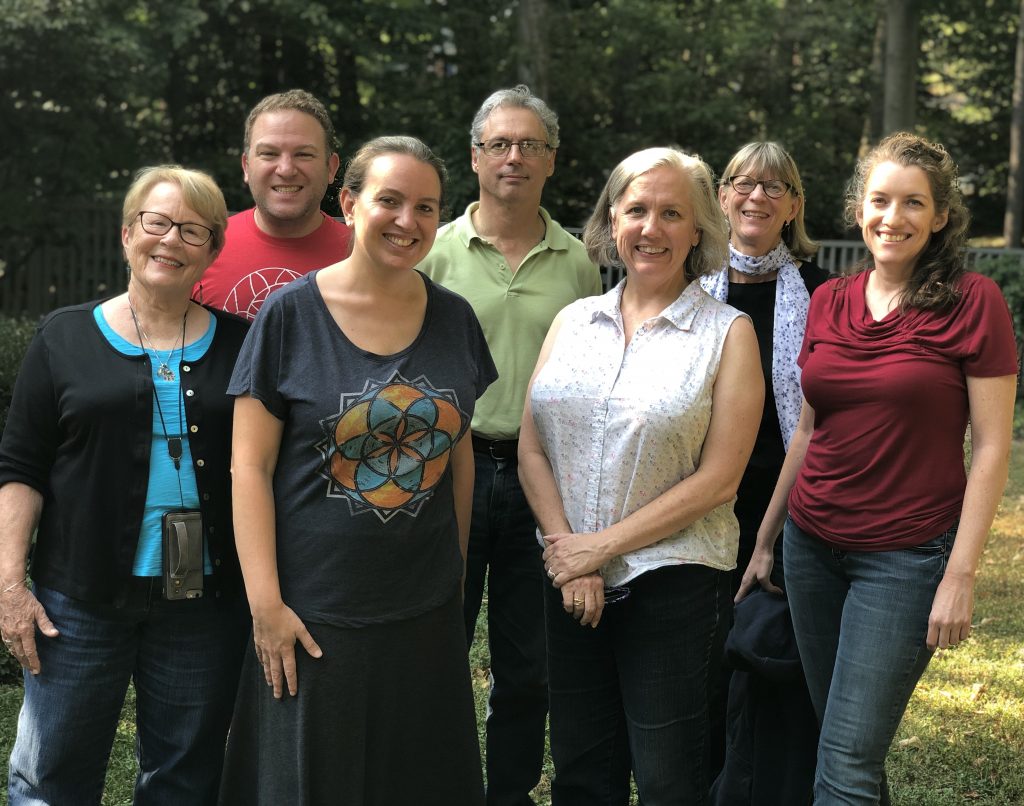 UUCSS is seeking an Interim Director of Religious Education to join our congregation as a senior staff member in October 2019.
Carol Hamilton has identified as a Unitarian-Universalist all her life.  She came to UUCSS in 1996 in search of religious education for her eight-year-old daughter. Yassi Davoodi.  She became involved in UUCSS and she and Yassi enjoyed going to UUCSS's annual retreat at Catoctin, but as a single mother, she said no to frequent requests…
All members of UUCSS are encouraged to attend the annual congregational meeting on Sunday, June 2, 2019, after the worship service. Light refreshments will be served. We will be celebrating our year and voting to approve the budget and the new slate of board members for the coming year. 
Jim Street is the Volunteer of the Month for May. Jim and his wife Emily Tien came to UUCSS in the early 2000s, looking for a place to build a community with their young kids. Although they visited a number of churches, UUCSS appealed because of its Religious Education Program and the strength of Rev.…
The Social Justice Players, sponsored by The Unitarian Universalist Social Justice Program, and in coordination with the Chalice Theatre at the UU Church of Arlington (UUCA) and the UU Church of Silver Spring (UUCSS), will be presenting the Pulitzer-Prize-winning play, SWEAT, by Lynn Nottage, to be directed by Bruce McConachie. There will be six staged-readings…
Sharon Snyder is the Volunteer of the Month for April. In 1997, a good friend's mother told Sharon she needed to join a UU church or a synagogue because she needed a community. At that time UUCSS was advertising its services in the Washington Post. Sharon saw that Rev. Jim Bank was preaching a sermon…
If you are a visitor who would like to learn more about Unitarian Universalism and UUCSS in particular or about the process for becoming a member, please join us April 14 at our monthly UUCSS 101 for an informal gathering with folks from the Membership Committee. We meet following the service in the Triangle Room, which is adjacent to the Community Hall…
Are you interested in becoming a member of UUCSS? Our next Pathways to Membership class will be from 9:00 – 12:00 pm on the morning of April 6 in the Dolan Lounge at the church. Reverend Cox will be joining us. The Pathways class provides an opportunity to learn more about the history and principles of the UU faith and about UUCSS in particular. You…
Please join us for the annual UUCSS Fellowship Dinner on Saturday April 27 at 6pm.
Enjoy good company, good food (pot luck style), good music, and dancing!
Please click on "Gather In Gratitude" above for the registration link.
This year's Annual Budget Drive is officially launched! All Members and Friends of UUCSS are invited to sign up for an ABD cottage meeting! Sign-ups are now open, and cottage meetings begin March 17. Light refreshments will be served at all cottage meetings, and some are noted to be children-friendly. We encourage all to join…